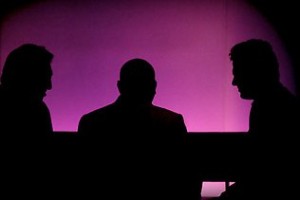 Sweet Briar College provides excellent lessons for schools and organizations about which I have written over the past few weeks.
This title, "Sunshine Laws & the Case for Abolishing the Executive Committee….everywhere…." lifts up the need for transparency as well as the downfalls of having an over-arching Executive Committee of a Board.  After all, who wishes for a small group of people to make decisions for them when they are fully capable of weighing the same evidence for themselves?  No one.  No one likes others to make decisions for them, particularly when the decision is terminal.
Mr. Richard Leslie's opinion piece "Sweet Briar's Leadership was a Short-sighted Mess" in the Washington Post regarding his experience on the Board sheds light about the Board's governance practices that led to its controversial decision to close the College announced on March 3, 2015.  It is sickening to hear about the conduct of this board.  As more and more information unfolds in the legal discovery process and in the national media, it is obvious this board was incapable of solving tough challenges, practiced poor governance and made a faulty and hasty decision to close.  It is time for them to resign.  In the words of Dr. David W. Breneman, member of the Executive Committee, he admits their weakness,
We knew that we faced an existential challenge, but collectively we were unable to find an answer.
Vice Chair of the Board, Elizabeth Wyatt, describes it even more simply,
"We tried…."
Today I dive deeper into the issue of governance and examine the Executive Committee model both at Sweet Briar College and through my own experience.  I call for implementing Sunshine Laws and practices immediately and abolishing Executive Committees everywhere.  Why?  Because it makes for better boards.  I learned the hard way….
When I served as Executive Director for Anne Arundel Community College Foundation and Director of Institutional Advancement for the College, I inherited a board with a strong Executive Committee, Chairs of Committees and a robust list of 20+ board members.  I was cautioned by the outgoing Executive Director that not many of them showed up and that the majority of the work was done within the "EC" (Executive Committee).  This wasn't cause for alarm for me, in fact, it was the norm from places I had been and boards on which I had served.  All of the training I received in leading boards led me down the path to this model.  I now realize the consequences of this model and know there is another way….
Enter the rising board chair.  Six months into my five year tenure at this organization, a new board chair rose to lead the board.  He was an accomplished accountant with a large firm in the area and a respected community leader.  When he rose to the position of Chair for the Board, the first thing he said to me was, "We are no longer having an Executive Committee."  My first response was, "What???  How are we going to get our work done??"  As an Executive Director, I LIKED the idea that I could convene a few people on the phone or by email and resolve issues (which were later reported to the board  fait accompli).  He explained to me that, through his board experience, he didn't appreciate serving on a board when it seemed that a smaller group actually made decisions and he simply was asked to rubber stamp them or not weigh in at all.  He said, "Eventually, people feel like their time is wasted and their voice on the board doesn't matter.  Trust me on this, we will have a better board."  He was right.
This new model for the private foundation was closer to the operations of the Board of Trustees at the same College .  As the College was State funded, they were required to operate under Sunshine Laws.  Those laws forbade Trustees to meet or make decisions outside of a public forum.  In light of Sweet Briar College's current fate, this approach seems very refreshing and worthy of consideration for future leadership.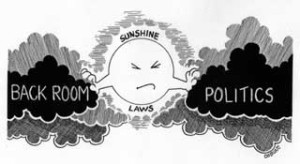 DEFINITION of 'Sunshine Laws'

Regulations requiring openness in government. Sunshine laws make meetings, records, votes, deliberations and other official actions available for public observation, participation and/or inspection. Sunshine laws also require government meetings to be held with sufficient advance notice and at times and places that are convenient and accessible to the public, with exceptions for emergency meetings.  (Credit:  http://www.investopedia.com/terms/s/sunshinelaws.asp#ixzz3cl9l2SXB )
If the Government can figure out to publish their meetings in advance and make their deliberations public, I certainly think a small nonprofit or College could do the same.
At Sweet Briar College, the Executive Committee had completely usurped the power of the board, Richard Leslie wrote in the Washington Post:
During the five-year term of the Presidency of Jo Ellen Parker, rather than none, all critical decisions were made by a small subset of the Executive Committee of which Ms. Dalton was a part.

The full board was occasionally asked to ratify decisions, which they dutifully did.

Upon the entrance of Jo Ellen Parker, all board members were specifically instructed not to contact a member of the Senior Staff without first obtaining permission of the relevant committee chair and the president. They even brought in a coach from the Association of Governing Boards (AGB), an organization solely funded by the presidential budgets of our nation's colleges, to reinforce this stifling of involvement.
As I can personally attest, those who even accidentally violated this rule were reprimanded by the president.
By contrast, when I worked for Sweet Briar College in the 1990s, I found an engaged Board open to feedback from all fronts.  As a junior staff member, I was encouraged to attend meetings (albeit sitting in the back), interact with members of the Development Committee, continue to volunteer as an alumna, and interact with students regularly.  I attended meetings of the Development Committee and worked with several board members around the country for Regional Campaigns.  I stayed in these board member's homes and we shared ideas throughout the day.  Imagine if that board member had not been able to speak to me at the time? Board members under the current administration were told not to talk to staff members and were reprimanded when they did.
In documents connected with the court cases (click here for a link to all legal proceedings), Mr. Leslie further wrote that even the decision to move the interim President to full President was made without input from the full board.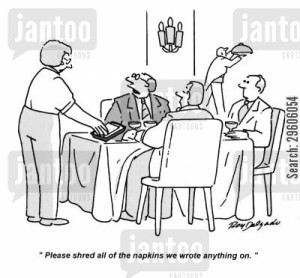 Interim President James Jones in an official College "Q & A" said this about the Executive Committee when asked why the Board didn't share its Minutes:
Q: Why not release the meeting minutes?

Jones: "Because we do not have to release the minutes and because an enormous amount of what went on was done in executive session where there are no minutes."
When I first heard this I was disgusted.  As more experts debunk figures used by the board and more information becomes public, it is disturbing to me to know that the full board was not included in "an enormous amount of what went on….".
The American Association of University Professors remarked on the Sweet Briar Board's unilateral action as follows,
On March 3, 2015, with no warning, the board determined the college's fate without any faculty participation, in evident disregard of widely accepted AAUP-recommended governance standards, as set forth in the Statement on Government of Colleges and Universities, jointly formulated by AAUP, the American Council on Education, and the Association of Governing Boards of Universities and Colleges. The board acted in secrecy, even though for two years the college's faculty had been developing alternative curricular and programmatic scenarios to assure Sweet Briar's survival.
All stakeholders of Sweet Briar College were shocked by the Board's lack of transparency and action:  students, parents, faculty, staff, alumnae/i, community members.
Back to my personal experience with my board chair and the transformation that unfolded.  Initially, the board didn't know what to make of the notices that our meetings would be a bit longer and there would be a new approach.  While we still sent out Committee Reports from Committee Chairs in advance, those Committee Chairs were given more time at the meeting to update and to discuss.  When preparing for the meeting, the board chair and I would go through what decisions needed to be made and the flow was designed to provide information on those items and voting early in the meeting.  If we got into too much detail when preparing, he would stop us and often say, "The full board would appreciate hearing this."
The meetings themselves transformed in small ways at first.  People who normally arrived late and left early stayed to the end.  Those who often were multi tasking with their blackberry in their lap were more engaged and participated in discussion.  If anyone had held back not contributing during the meeting, the Meeting Evaluator (more on that in a moment), would ask for their input during the roundtable evaluation of the meeting a the end (more on that as well).  By the third meeting, the tables were filled.  We had to change rooms.  By the last meeting of the year, there was a buzz in the room, constant dialogue, engaged members.  Oh, and not surprisingly, giving from board members increased as well as offers to engage between meetings.
The idea of having a Meeting Evaluator and a roundtable meeting evaluation come from the book, Death by Meeting, which I commend to everyone.   The meeting evaluator takes notes throughout the meeting regarding participation, length of discussion on items and gives feedback for improvement to the group.  During roundtable evaluation, there is a brief report-out sharing either a take-away from the meeting or something a member would like to see in the future.   Best of all, the five tips for better meetings is transformative if heeded. One of the five is worth lifting up in particular:
Provoke conflict. Are your people uncomfortable during meetings and tired at the end? If not, they're probably not mixing it up enough and getting to the bottom of important issues. Conflict shouldn't be personal, but it should be ideologically emotional. Seek out opposing views and ensure that they are completely aired.
Back to Sweet Briar College.  The Board of Directors of Sweet Briar College voted to close on March 3, 2015.   Imagine if this board actually operated with some form of Sunshine Laws or even basic transparency?   We would have:
Meetings locations and agendas published in advance.
Meeting minutes available for review.
Reports used for deliberation available for public review.
Stakeholders represented (students, faculty, parents, staff, alumnae/i, community members).
Opportunities for public comment.
Imagine if the Executive Committee either didn't exist or did not make decisions in private?  I do wonder whether the full board might have reached a different conclusion if they had access to the same information.  Is this a board that can be trusted to issue a death sentence?  I think not.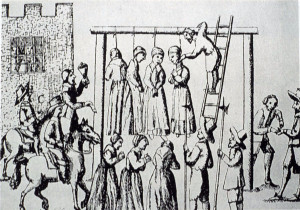 Unfortunately, this board has issued a death sentence to Sweet Briar College.  Fortunately, the legal system has intervened including the Virginia Supreme Court.  
I assert that this board expresses the worst in governance practices.  This board has a small insular Executive Committee making decisions outside of the full board's input.  The board took actions before announcing closure to violate donor's gift intentions (meeting with the Attorney General to use donated funds for closure purpose)s.  The leadership provided erroneous data (now being revised with eight-figure errors).  The board members were given reports on which to base their decision without being able to review those reports in advance (they were collected after a cursory review period at one meeting and collected before a vote).  Board members were told they could not launch a fundraising campaign based on a survey not designed to provide the data for such a decision (an analysis of this study with input from the firm charged with conducting it is explored in this article).   This is pathetic governance and their decisions are simply not to be trusted.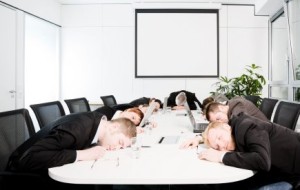 Saving Sweet Briar, Inc., a charitable organization committed to the future of Sweet Briar College, stands ready to provide new leadership and support.  To contribute, please visit Saving Sweet Briar.  To review the strategic direction for the future, please visit:  Sweet Briar 2.0.
Please also consider reading:  http://beingunlocked.com/2015/05/would-you-like-to-save-a-college-an-open-letter-to-philanthropists-everywhere/
Stacey Sickels Locke, CFRE, is a proud graduate of Sweet Briar College, Class of 1988.  She served as an employee of the College in the early 1990s working on the $25 million Campaign.  During that time, she solicited many leadership gifts which make up the current endowment and she feels a sense of duty that those donations are not used for the closure of the College or for any other purposes than the donors intended. Since then, she has spent her career building support for higher education and the nonprofit community as a staff member and consultant for boards.  As a volunteer, she has served Sweet Briar since graduation as a fundraiser, admissions ambassador and now advocate for the #saveSweetBriar movement. She raises funds for Saving Sweet Briar, a charitable organization committed to the future of the College  She is a member of the Association of Fundraising Professionals (AFP), is affiliated (through the University of Maryland) with the Council for Advancement and Support of Education (CASE) and holds a Certified Fund Raising Executive (CFRE) certification from CFRE International.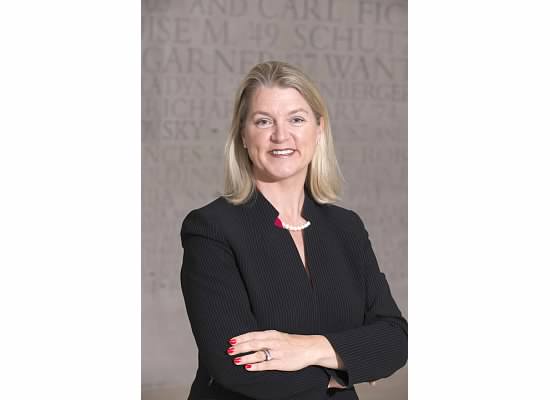 Follow us....






by

Share this....





by

Thanks for sharing!