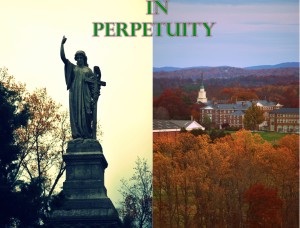 There are many leaders who worked tirelessly in the effort to save Sweet Briar College.  Christine Bump, JD, MPH, Sweet Briar College Class of 2000, is one of those heroes.  I met Christine shortly before we both appeared on a WJLA TV7 interview in May, 2015.  My husband and I had the pleasure of meeting Christine and her husband, Elias Papasavvas, at Reunion, 2015.  This is a power couple if there ever was one and they will play a pivotal role in years ahead .  Christine and her husband have made a perpetual commitment to Sweet Briar College.  I share it with you here as a guest post and for the professionals at the College to consider as they look to the future.  I love the idea of a Perpetuity Society as it demonstrates the kind of commitment I feel for Sweet Briar College as well as the type of relationship we will need with alumnae and friends in the years ahead.
P.S.  I have had Sweet Briar College in my will and was on a list to be buried on Monument Hill.  I have made a commitment  – a stretch commitment more than I have ever pledged — to Sweet Briar College over the next five years.  I pledge to give to Sweet Briar perpetually.  
perpetuity
ˌpər-pə-ˈt(y)ü-ət-ē/
noun: perpetuity
a thing that lasts forever or for an indefinite period, in particular.

the state or quality of lasting forever.
Since we were thrust into the battle to save our beloved Sweet Briar, much has been written about the word "perpetuity." Indiana Fletcher Williams demanded in her will that her land be used in perpetuity to educate young women like her daughter Daisy. Over the past few months, thousands of excellent ideas have been presented regarding fundraising, loyalty, and commitment, in order to ensure that our Sweet Briar College "not merely endure, but prevail," as Judge James W. Updike, Jr. noted in his courtroom remarks on June 23, 2015. On that day, which Amherst County has already commemorated as "Sweet Briar College Day," he blessed the settlement accepted by all parties to keep our College open. When it was noted during the hearing that the actual text of the agreement is "for one year," Elliott J. Schuchardt, the attorney representing a group of Sweet Briar students, parents, and alumnae pro-bono, replied, "This is not for merely one year. It is for perpetuity!" The entire courtroom erupted in applause.
Today the flame is strong. But once the courtroom doors are closed, the settlement final, and everyone has returned to work, how will we ensure the continued commitment, passion, and fervor of alumnae, in perpetuity? For a new chapter of perpetuity at Sweet Briar College, we would like to propose the establishment of:
"The Sweet Briar College Perpetuity Society."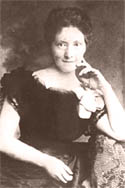 The Sweet Briar College Perpetuity Society would be for all alumnae who accomplish two things: (1) donate every single year, without interruption, from the year of their graduation until their passing; and (2) include Sweet Briar College in their will (which today is recognized as the Indiana Fletcher Williams Society). Living members who give annually without interruption since graduation would comprise the membership and they would continue as members so long as they do not interrupt their giving.
The "Founding Members" of the Perpetuity Society should be those alumnae who already satisfy both criteria. However, if there has been one benefit to the near closing of Sweet Briar College, it has been the rally of alumnae who were stunned by the March 3, 2015 announcement. Many have admitted that their giving to the College has been sporadic, but when they heard their beloved alma mater was going to close, their passion was unleashed. The promise to continue to give to Sweet Briar is strong; pledges for the next five to ten years have already been made. Therefore, upon the creation of the Perpetuity Society, the Founding Members would invite all alumnae who have donated this year, to the Saving Sweet Briar Movement, to join as "New Members."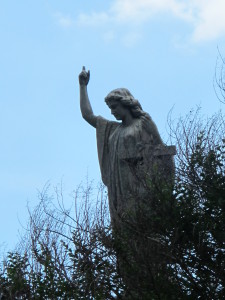 You may ask why we need another giving society. The Perpetuity Society would not be based on the amount of money given. Whether an alumna gives $5.00 a year or $5,000,000.00 a year, the amount does not matter. Also, Sweet Briar has the Pink Rose Society and the Silver Rose Society, recognizing giving over a period of years, i.e., at least 10 out of 24 years. Membership in the Perpetuity Society would demonstrate an unfailing annual commitment to Sweet Briar, year in and year out. The Perpetuity Society would not abolish any other giving society; giving amounts, giving over a period of years, and including Sweet Briar College in your will should continue to be recognized by the existing societies and circles. But, the establishment of the Perpetuity Society could encourage the continuation of the momentum of giving and loyalty we have now to ensure Sweet Briar prevails in perpetuity.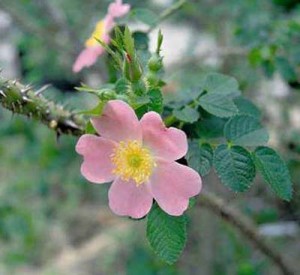 In recognition of how important Sweet Briar's perpetuity is, the Perpetuity Society should have leaders and activities beyond the walls of the College's Development Office. It should not just be a list, it should be a membership of those who show the ultimate support: a commitment to Sweet Briar's mission of turning young women into leaders through stellar education, in perpetuity.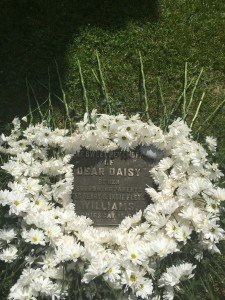 The Sweet Briar Perpetuity Society. In honor of our College's history. In remembrance of the battle that saved her. In resolve to ensure Sweet Briar thrives, in perpetuity.
Yours truly,
Christine Bump, Class of 2000 – Elias Papasavvas, Proud Husband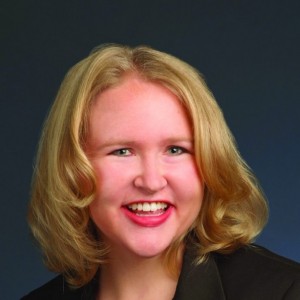 Christine P. Bump, JD, MPH, is a proud graduate of Sweet Briar College. She was a Presidential Medalist in the Class of 2000, and earned her professional and graduate degrees from Emory University's School of Law and Rollins School of Public Health, respectively. She practiced food and drug law for nine years in Washington, DC, and in 2013, was selected as a Rising Star by Washington, DC Super Lawyers. Christine has supported Sweet Briar financially and through volunteer hours every year since graduating, and is excited to continue that support.
You might also consider reading this post:   We Saved Sweet Briar – Now What?
To learn more about saving Sweet Briar College, visit the Saving Sweet Briar website.
To learn about plans for the future, visit Sweet Briar 2.0.
Stacey Sickels Locke, CFRE, is a proud graduate of Sweet Briar College, Class of 1988.  She served as an employee of the College in the early 1990s working on the $25 million Campaign.  During that time, she solicited many leadership gifts which make up the current endowment and she feels a sense of duty that those donations are not used for the closure of the College or for any other purposes than the donors intended. Since then, she has spent her career building support for higher education and the nonprofit community as a staff member and consultant for boards.  As a volunteer, she has served Sweet Briar since graduation as a fundraiser, admissions ambassador and now advocate for the #saveSweetBriar movement. She raises funds for Saving Sweet Briar, a charitable organization committed to the future of the College  She is a member of the Association of Fundraising Professionals (AFP), is affiliated (through the University of Maryland) with the Council for Advancement and Support of Education (CASE) and holds a Certified Fund Raising Executive (CFRE) certification from CFRE International.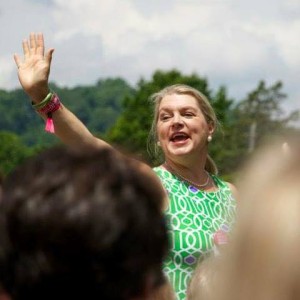 Follow us....






by

Share this....





by

Thanks for sharing!