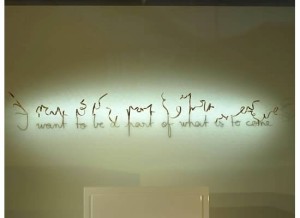 Walking down a street in Geneva, Switzerland is a visual treat.  So much beauty is packed into the architecture, landscaping, sculpture and, in this case, a closed jewelry store.
Lit from above, the twisted metal casts a shadow onto the wall behind.  The metal glints like the jewelry in the cases below it.
I want to be part of what is to come.
What an inspiring quote for 2015.  What an inspiring thing to say to another person – a loved one.
What will expand – or contract – in 2015?
What roles in life will change?  I know that all of these roles are important to me:  Wife, Mother, Daughter, Friend, Cousin.  Some of my roles, while important, may not be as expressed as I might like them to be (not a topic to blog about out of respect for those impacted).
My work role is undergoing change.  I do want to be part of what I have created and what is to come as a result of a special gift I helped bring about (thanks to a very generous donor).  The next three years pull me forward with a new building to come out of the ground.
Among the many things I love about my husband, he always has something special planned in the wet cement of the future – what is to come.  I know I want to be part of that.  Travel is always on the list.
This quote also invites me to contemplate futures I don't want.  But that's for another post.
What do YOU want to be part of that is to come?
"How can I be substantial if I do not cast a shadow? I must have a dark side also If I am to be whole"
― C.G. Jung
Aside:  After doing some homework with various word searches on Google, I believe I can properly credit the wire artist as Fred Eerdekens from Hasselt, Belgium.  To see more of his amazing artwork, you can google his name.  Truly amazing.
Follow us....






by

Share this....





by

Thanks for sharing!
Comments
comments